The digitisation of society has destroyed the traditional business playbook. Our new context requires a realignment of strategy that, from a customer standpoint, helps you engage with the modern consumer. But integrating digital technologies and transforming your business model is one of today's biggest challenges.
To find success in the age of digital transformation, you'll need to show strong leadership and adopt new ways of thinking. Fortunately, all of this pain is worth it. Brands who quickly understand new models and become digitally mature will have an advantage over their competitors.
In this blog post, we introduce some strategies to help you succeed at digital transformation. What you're about to read is based on insights from Jens Harsaae, a frequent speaker on the role of boards in leading digital transformation. So, let's explore how you can succeed at digital transformation by first looking at the top: the leadership.
Your digital transformation champion
The need for strong executive leadership for successful digital transformation can't be understated. MIT Sloan Management Review found that "The ability to digitally reimagine the business is determined in large part by a clear digital strategy supported by leaders who foster a culture able to change and invent the new".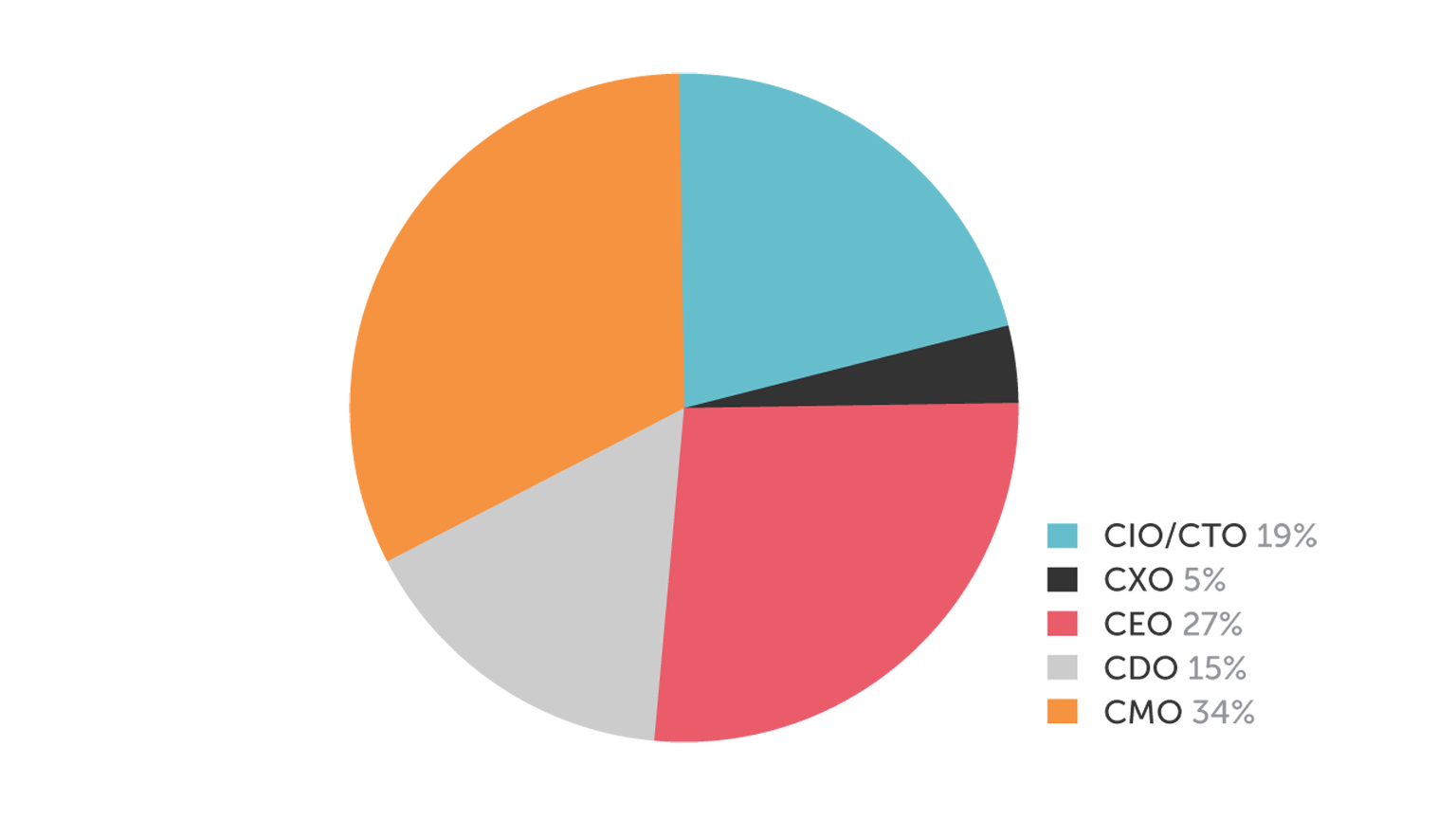 Source: The 2016 State of Digital Transformation – Prophet.
As you can see in the graph above, the champion of digital transformation within a business is often the CMO. This situation makes sense as the CMO owns customer understanding, and this is an area where digital currently excels. When you can shape the customer journey from start to finish, you are equipping your brand for success. And CMOs should see digital transformation as an opportunity to step up.
How to approach digital transformation
Are you sick of hearing about disruption? Don't worry; we don't think this example of consultant-speak is necessary for success. Instead, it's important to remember the adage "one size does not fit all". There's no perfect course laid out for tackling digital transformation. Remain adaptable, it's essential to plan, act, learn from mistakes and adjust.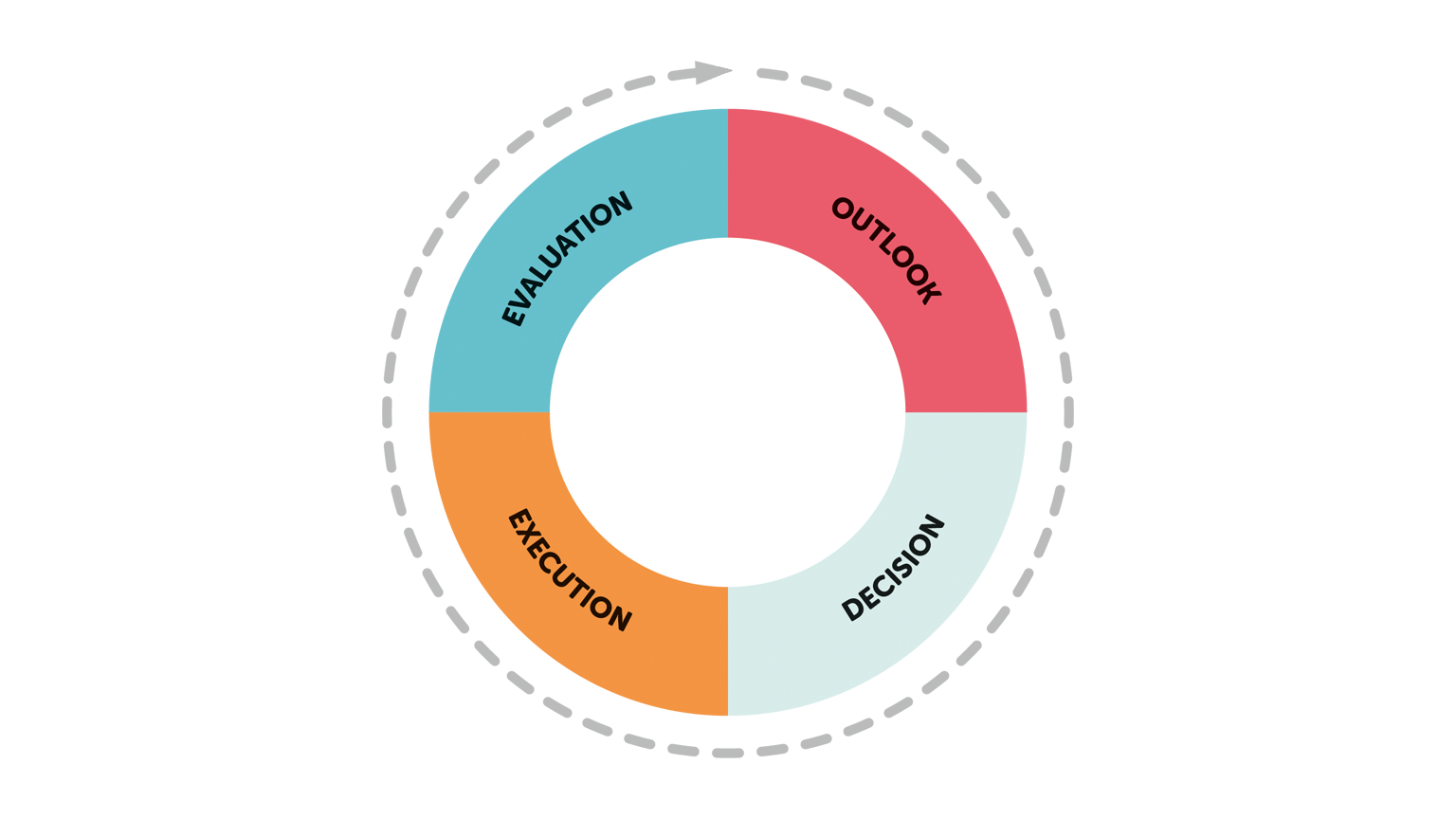 Outlook, Decision, Execution and Evaluation. Originally published in The Digital Transformation People - See through the hype; chart your digital course now
In our recent webinar, Jens Harsaae laid out a flexible, four-step approach for digital transformation. It's a way for leaders of established businesses to work with digital transformation which abandons the notion of long-range strategic planning and embraces shorter sprints and faster evaluation of initiatives. Let's take a look at each stage of the approach.
Outlook
You need to gain as much information as possible about what's going on around you. So, pay attention to your competitors. Additionally, many companies fail to see new models or keep an eye on the start-up scene. That's quite dangerous.
It's also important to stay close to your customers and pay attention to their pains. It's a known recipe for success that understanding your customers' pains gives you the ability to generate interest in your solutions. Finally, be honest about your capabilities. The more objective you are about what you can do, the better your decisions will be.
Decision
Once you've assessed what's going on in your industry, it's time to make some decisions. First, you'll want to create a portfolio of initiatives. It's equally important to decide on what you're going to do as well as what you're NOT going to do. You cannot do everything.
Now is also the time to put some markers down for your journey. These markers let your organisation know where it's heading. And with this in mind, it's important to stress that executive leadership is vital. Name a digital champion if necessary. Otherwise, uncertainty can creep in, and that will affect motivation and performance.
Execution
Now you can implement a finite number of initiatives. Prioritise trial and adoption while working towards specific KPIs and milestones. Working with external partners can be helpful. You might find it advantageous to include start-ups. They are typically eager to gain access to new customers and input on their strategy.
There's a lot of debate around the right structure for such experimentation. Nevertheless, you'll need to find a way to bring existing and external parties together. Otherwise, disparate groups will work on digital transformation in a vacuum, and your business will fail to mature digitally.
Evaluation
Finally, you should capture all experiences gained. Now is the time to evaluate the initiatives you implemented and refine your strategy. According to Jens Harsaae, "the mindset you should have is that of failing fast and failing cheap so that you can evaluate and reshuffle your portfolio of initiatives."
With the knowledge you have gathered, you can now begin the cycle again. Continued iterations help you squeeze more value out of your digital initiatives. And your business will thank you for digital transformation success with efficiency gains and revenue growth.