According to Inc.com, we can already forecast that 2015 is going to be a record year for social media. Every year sees an additional 200 million global users joining social media, and next year this figure is expected to exceed 2 billion users.
While some social networks are growing exponentially, others are fading away and some are disappearing totally.
Regardless of this, the possibilities are many and it's swarming with data, new ideas and platforms out there - all focussed on creating the best possible content to new markets and customers.
"Marketing used to be about making a myth and telling it. Now it's about telling the truth and sharing it!"
Marc Mathieu, Global SVP of Marketing at Unilever
The mobile platform has won
We've said it before and the comScore diagram below shows just how serious it is: the mobile platform usurped the computer from its throne a long time ago.
This revolution occurred back in 2014 and even though many people today still use a wide variety of different devices, including the computer, sales of computers are steadily decreasing while sales of smartphones are on the rise.
If you work with content – both written and visual, it's important that in the concept phase and during development and implementation you consider the mobile-friendliness of your content.
According to Alvomedia, 40 % of all online purchases are made on a mobile platform – just to emphasise the importance of this message.
It's all about successfully targeting the user exactly where they are - and by this I don't mean the geographical location, which is also important, but on the type of device they are using.
If your content can't be downloaded, read and experienced on, for example, a mobile phone, you need to get it fixed. Now!
Instagram beats everything and will soon be opening up for adverts and direct purchasing
Instagram beats everything
Instagram, with its 300 million users, is the fastest growing adult social media according to Social Media Week. Moreover, Instagram is THE social media, where the users are most active in terms of interacting and sharing content.
Forrester recently researched 3 million users' interaction with over 2,500 brands' different posts on seven different social networks: people rarely involved themselves with the brand content and on six out of seven social networks, the brands obtained an engagement rate of less than 0.1 %.
However, one social media was way ahead from the other six. Yep - you guessed it: Instagram! The study showed that when it comes to involvement in the brand's post on Instagram, there was an engagement rate of a significant 4.21%.
Instagram created 58 times more engagement with these brands than Facebook and 120 times more than Twitter.
Adverts and purchasing on Instagram
According to eMarketer, Instagram will open its platform for advertising in the autumn and anticipates it will be a huge success. It will enable you as an advertiser to customise your messages to specific target groups (with data from Facebook), and market your products while the user is inspired by beautiful or interesting photos or videos.
Video content is exploding and is prioritised
In the last three years, the number of videos in the content area has exploded. According to Demand Media.com, videos now feature in 93 % of companies' marketing initiatives.
82 % report a positive effect on their business - thanks to video content. Digital Information World also writes that Google has launched new algorithms that prioritise videos when you google - and especially when you're searching from a mobile device.
Facts about video lengths
If you create a 15-second video, you'll get the highest click rate on social media.
If you want to keep 80% of the viewers, the video must last a minute at the most. This is why 50% of all videos posted on social media are deliberately made with this length.
If it's impossible to create a suitable video in under a minute, make sure it doesn't last longer than two-three minutes. With this video length, you should still be able to keep 60%.
Source: Demand Media.com – the content marketing files.
User experience
An analysis by Adroit Digital in 2014 showed the following:
56 % of video users skip the adverts most of the time. However, 24% said that the content was a crucial factor in whether they would skip it or not.
68 % said that they were more influenced by a short video than a text-based advert when they were seeking new product information.
46 % said that 15 seconds or less was the optimal length for a video advert. 35 % said 16-30 seconds, and 19 % said 31 seconds or more.
But making a powerful video of a product or service is no easy task. People are critical and flit all over the place with their own pictures and videos in various online forums. It goes without saying that the competition is very fierce. It has become easy and cheap to make videos with lots of fancy technical effects, but you shouldn't let yourself be blinded by them. The crucial element is still to tell a good story in a precise and compelling way, ensuring the recipient is in no doubt about the message.
4. Curated content saves you time and money
A whole 45 % of the companies we asked thought the greatest challenge of content marketing is producing enough content.
Source: Brand Movers
Curated and syndicated content can be a great help if you are lacking the time and manpower in your Marketing Department.
If you're not familiar with these terms, here's a brief introduction to them:
Curated content is when you select the best content from a specific industry or subject and give it extra value by adding your own comments, input, pictures or other links. It's not about copying the content - it's about curating: selecting, arranging and rewriting, and then putting it together in a new way.
With syndicated content, you give permission for your content to be used on other people's websites or blogs, obviously stating a clear reference to the source (you)! Collaborative content between companies also belongs here.
According to Curata's whitebook, 2015 Content Marketing Tactics & Technology planner, the optimal mixture of content is: 65% own production, 25% curated and 10% syndicated.
So, if you're busting a gut in the marketing department and have not worked with curated and syndicated content before, I strongly suggest you explore this option further.
Advice in connection with curated content:
Choose the best of the internet within your own niche and curate it for your readers. In other words; contextualise the material and create an angle that fits your customers' context, needs and understanding. In short - make it relevant for your target audience. It's about creating added value.
Always remember to insert a link back to the original content.
Add your own comments and let your personality or individual style and tone shine through.
Add your own visual content.
Source: Brand Movers, Stine Andersen
More about curated content
Cinemagraphs: gif files with animation
In short, cinemagraphs are animated gif files (image files), where some kind of movement has been inserted.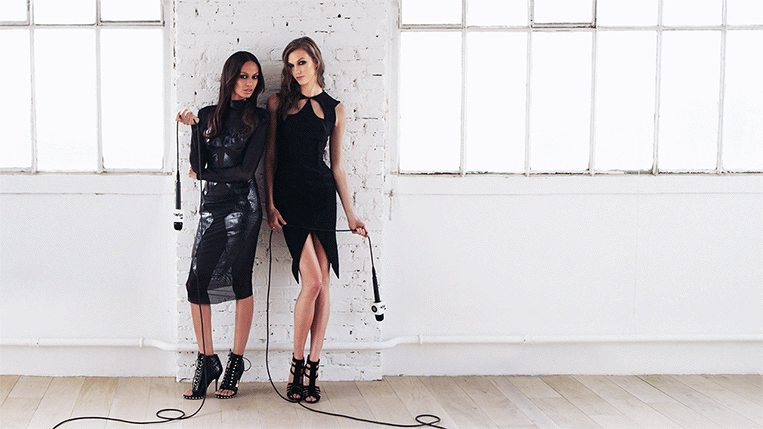 And it really works!
Cinemagraphs enable you to surprise your reader, create and enhance: a mood and help you stand out among the huge volume of images on social media. After all, it's about being seen!
Animated images are fast becoming popular in the world of fashion, but the trend is sure to quickly spread like ripples in water, as the effect can cleverly be used in many different contexts.
So to finish off my article, I've found lots of different and stylish Cinemagraph solutions that I hope you will find inspiring.
Enjoy the show: