It can be difficult keeping up with the latest developments in social media. That's why we thought you'd enjoy reading these interesting facts and trends about social media.
Facts – what was eye-catching in 2014?
The numbers of users continues to escalate
According to the American Statista.com, in 2010 there were about one billion monthly users of the social media worldwide. In August 2014, Global Web Index, believed that we topped two billion monthly users of social media! And it doesn't stop here. 2015 shows signs of securing even more users of social media under its belt.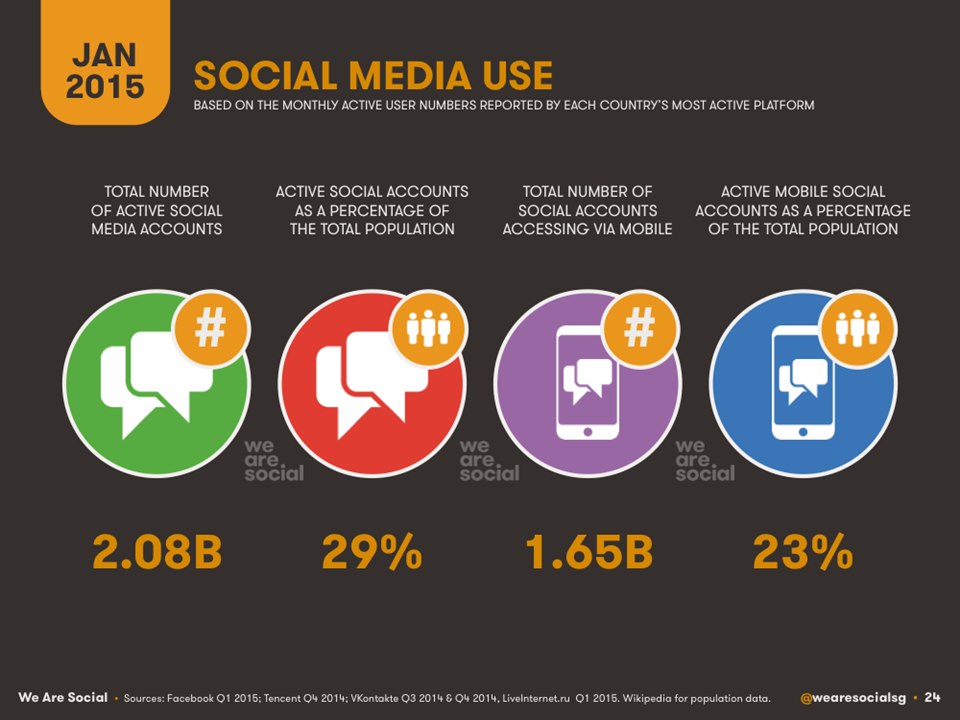 Source: We Are Social.
Facebook still looks untouchable
According to We Are Social , Facebook is still king of the social media with 1.184 billion users globally. Facebook itself claims it has 1.35 billion users. Whatever the exact figures are, Time Magazine has estimated that Facebook gained 100 million new users - a month - in 2014. And nobody expects this number to start decreasing in 2015.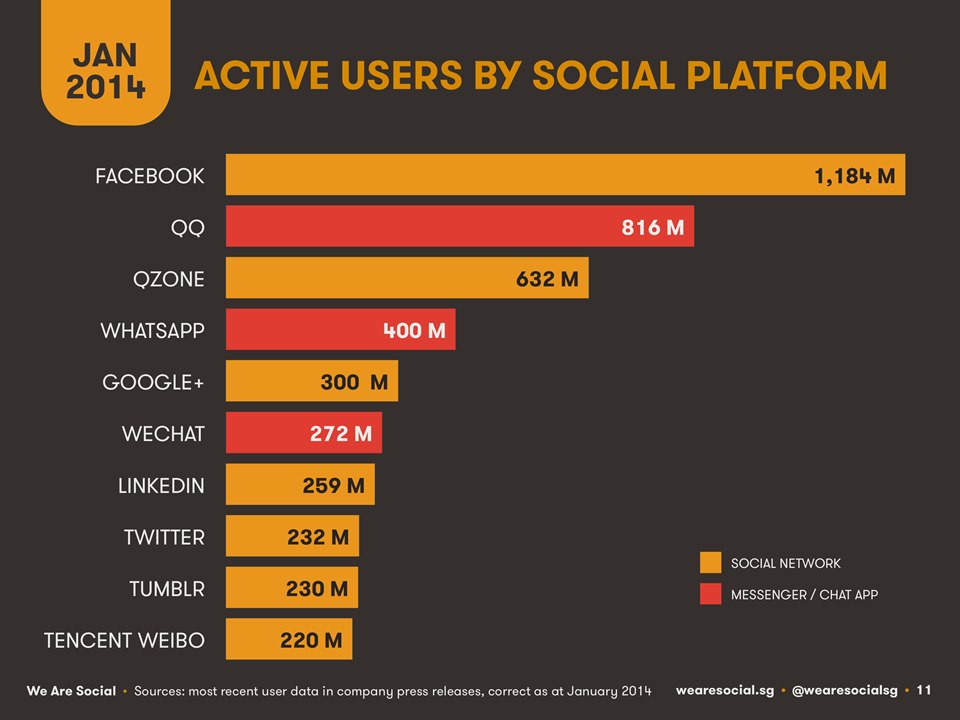 Source: We Are Social.
With an impressive second place, QQ is a communication app that can boast over 800 million users. In 3rd place, Qzone is a Chinese equivalent of Facebook and, undoubtedly for that reason, has most users in China, but Facebook is the all time "winner" on a global level. Further down the list you'll find Google+ with 300 million users, LinkedIn with 259 million users and Twitter with 232 million users. And the expectations are that these considerable numbers of users will continue escalating skywards.
Here is an updated overview from January this year. Facebook is still way in the lead.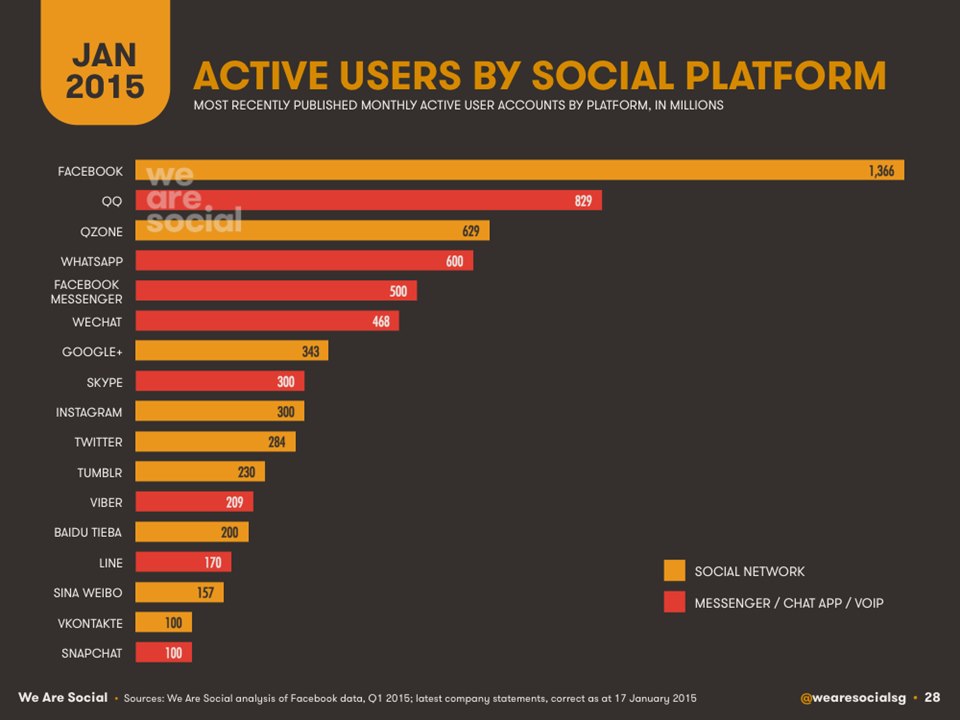 Source: We Are Social.
Access to the internet is growing
There are still great differences in internet access around the world - even within Europe. This also naturally affects access to social media. North America is the leading country, where a massive 88% of the population has internet access. This is closely followed by Western Europe with 81%. Oceania with Australia and New Zealand lies in third place with 69%, while only 58% have internet access in Central and Eastern Europe. In 2015, it is expected that even more people will have access to the internet, and that mobile internet in particular will impact the progress.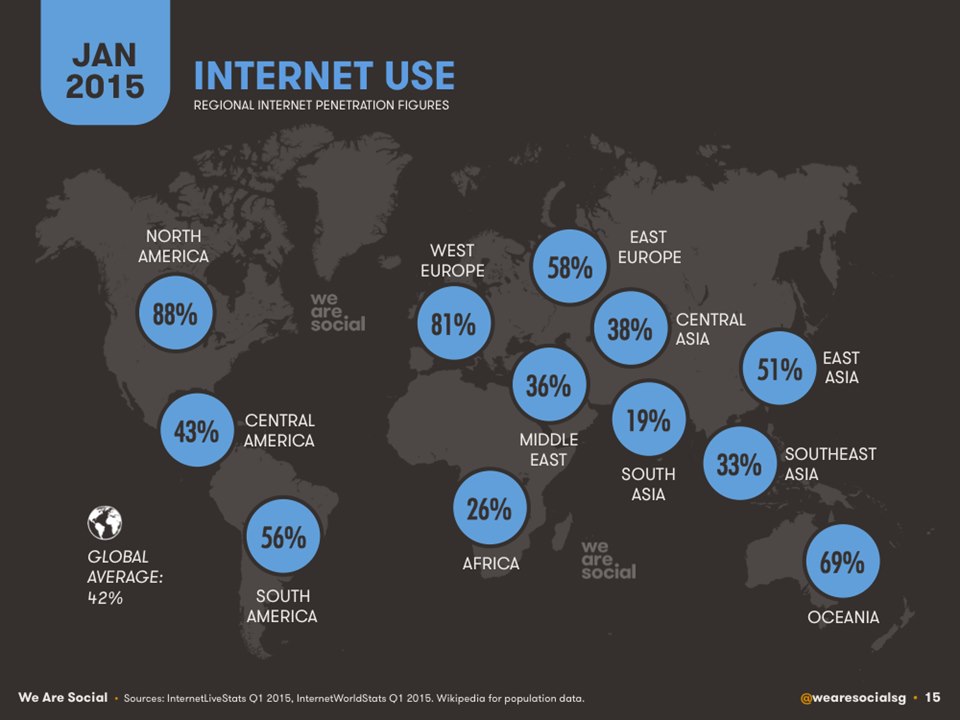 Source: We Are Social.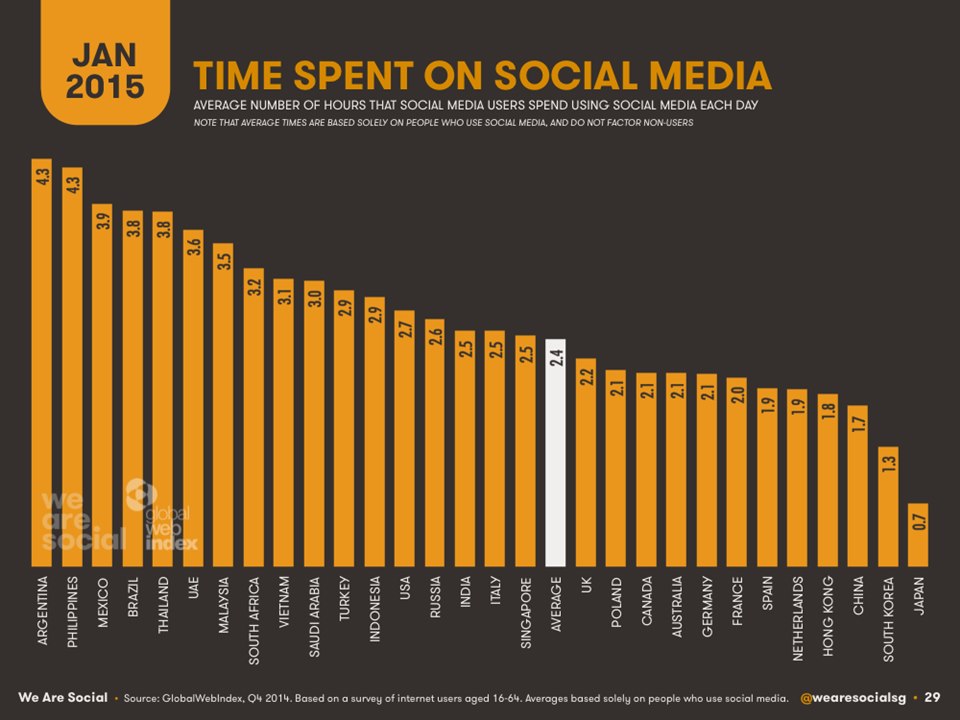 Source: We Are Social.
Mobile phones conquer the world
According to Social Media Today , two-thirds of all people who logged on to social platforms in 2014 did so from mobile phones. This figure will continue to rise in 2015, and Social Media Today predicts that the increased use of mobile phones will lead to 70% of all digital advertising in 2018 being specifically customised for smartphones.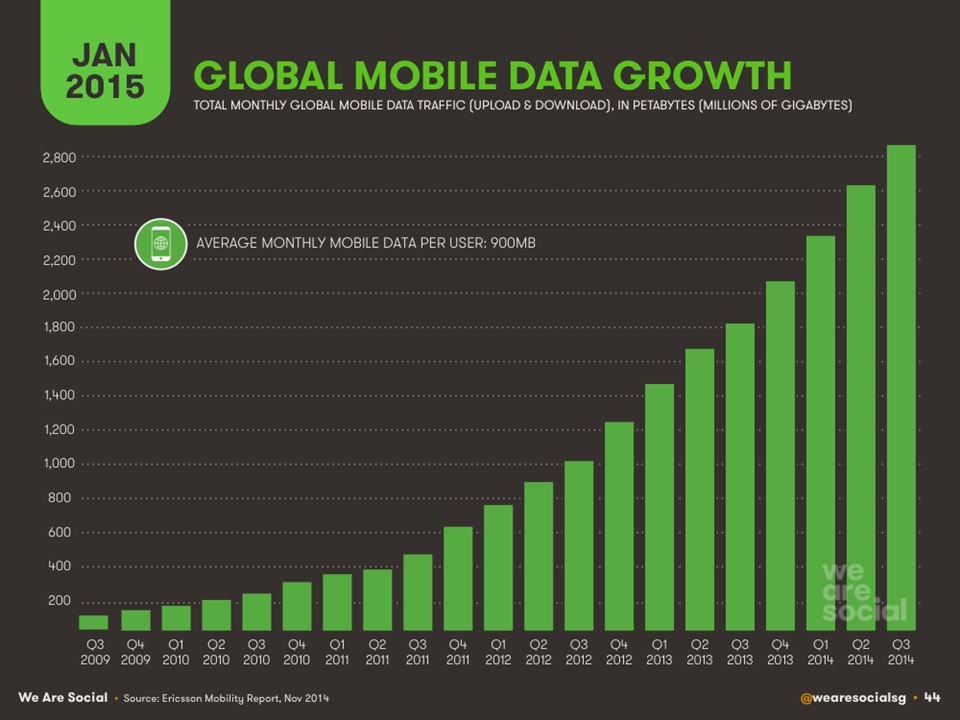 Source: We Are Social.
So what's happening with Google+?
Google+ never really became what Google had hoped and expected. And nothing indicates that this will happen in 2015. Compared to something like Facebook, Google+ is almost a ghost town - even if there are actually 300 million registered users.
Instagram is booming
Instagram has undoubtedly become "the place" where people share their photos and videos - for Instagram has enjoyed an explosive growth in 2014, and in October could proudly declare to have more active users than Twitter. There are now 300 million users who daily share more than 70 million images or videos on Instagram.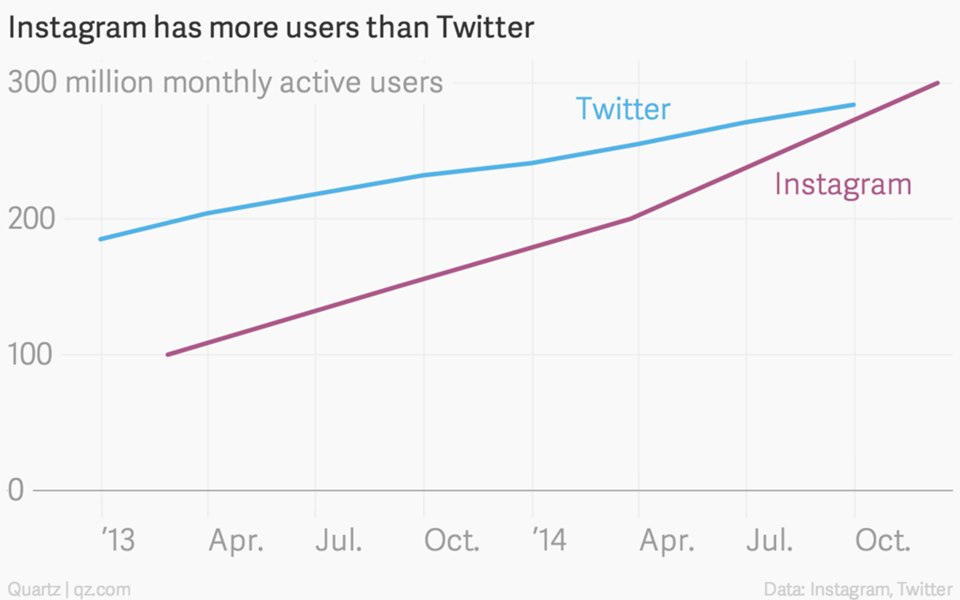 Source: Quartz.
Social trends which are worth keeping an eye on
Stay local – socially – speak your customers' language
As consumers, we have great expectations that you'll communicate to us as if you know us. You're supposed to know exactly what our dreams are – on a commercial level when it is B2B- related, and what our private dreams are when we're talking B2C. Time is running out for those major international communication campaigns that are rolled out "identically" on all markets. And this applies to social campaigns too. To ensure you make an impact and establish relevance, language, terminology and culture need to be locally rooted – otherwise the messages just won't penetrate and your social initiatives will not have the success you expected. And according to Social Media Today, this is the reason we will be witnessing an increase in "local" campaigns in 2015.
"If you talk to a man in a language he understands, that goes to his head. If you talk to him in his language, that goes to his heart." ― Nelson Mandela
YouTube and Vloggers – the new stars
The latest sensation to hit YouTube is the emergence of young YouTube stars - also known as Vloggers. According to Journey9, in the United States a number of stars have been created via YouTube alone. These overnight success stories are invited to perform on the red carpet, publish books, launch makeup collections, fashion collections and other things that subscribers are happy to spend their pocket money on. Vloggers are the newest generation of reality stars.
The "smart" devices become social
Cheaper sensors, according to Time Magazine, have led to an explosion in the development of "smart devices". Everything from household appliances, thermostats, bathroom scales and fridges to wearables (body-worn computers) like fitness bracelets and smartwatches collect data and send it wirelessly to the internet – such as Endomondo, which many people already use and love. Several of these devices already send data to Facebook, Twitter and other networks, which the user then has the option of sharing - and the trend is set to continue in 2015!
From Big data to Massive data
It goes without saying that the huge amount of data from social platforms and IoT (The Internet of Things) are creating new demands on data collection and data processing in companies' CRM systems, as pointed out by Verizon Enterprise Solutions. Especially when consumers are now demanding relevance and understanding of their daily lives.
According to Google Analytics Advocate, technology is already ready for the massive data content, and the market also has analysts ready to make 2015 the year when digital measuring breaks through. However, this obviously requires a certain degree of understanding of the collection and processing of data across the company - and that in itself requires a great many resources.
Social media = supermarket and bank
Do you dream of being able to shop directly from your Facebook or Twitter account? In fact Facebook and Twitter are supposed to have tested beta versions of "purchase buttons" that allow people to shop directly from their Facebook or Twitter accounts. Facebook's version of a "purchase button" is also supposed to allow the user to send money via Messenger – thereby saving time, money and extra charges.
Major brands need their own publisher
"Content Marketing" were some of the biggest buzz words of 2014. Content is the future, but when everybody is creating content, then the quality of the content becomes even more important. And in order to be able to create enough content of a sufficiently high quality, more and more companies need to look around for extra assistance and additional resources. Biz Community from South Africa therefore anticipates more companies moving into the area of publishing or even employing editors to create the large amounts of necessary quality content. Smaller companies will probably start by outsourcing to the many new "Content agencies".
So what's going to happen to social media development in 2015? Is it primarily about having a clearly defined strategy, tools, the right content and competent resources that make you well prepared to "battle it out" on the numerous platforms. If these factors are all in place, you'll have a good chance of being part of the "social league."