Modern companies use more resources than ever before to brand themselves. This is because the competition in the digital world has become tougher. And this puts greater demands on the marketing department too.
For many years the focus has been on storytelling. This is still very much the case because "the real stories" are an important element in creating a successful and recognised brand. Modern companies have to include strategic and creative thinking in their efforts to gain customers' attention. By using stories and experiences, customers should be able to smell, taste, hear and touch the companies' products and brands. They have to get right under the skin to be remembered again and again and again...
"Tomorrow's digital consumers are no longer just focused on just the product but also the experience."
Linguistic quality is a competitive parameter
With the above in mind it is hardly surprising that the concept of Content Marketing is currently on everyone's lips. Throughout 2014, "Content, Content, Content" was sung at meetings of corporate marketing departments, as if it was the famous Danish hymn "the Sun Rises in the East". However, our communal sing-along has merely led to a sharp increase in the amount of published content, and nothing indicates that the volume will diminish in the future. On the contrary - everyone is writing and publishing like there's no tomorrow!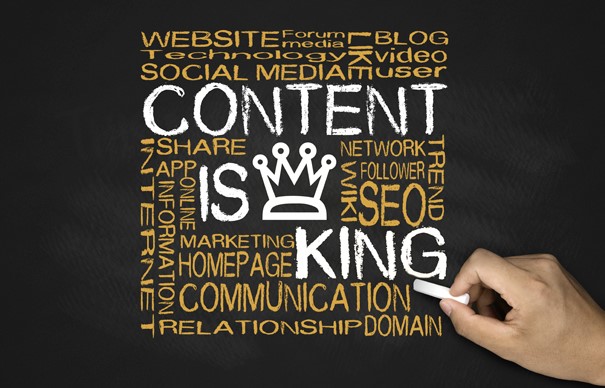 As we mentioned in one of our previous articles, studies show that 55% of visitors to a website use less than 15 seconds before they flit on to the next thing. This proves how important it is to make an even greater effort to maintain our recipients' attention. So how do we do this? Well, among other things we can wrap our message - our history – in attractive packaging. It is decidedly more motivating to read a new, beautiful and well-written book than it is to read an old, coffee-stained book with outdated language and yellowed, falling out pages.
The book's cover should naturally be understood as a metaphor for the linguistic quality. Of course it is important that our messages - whether they are presented in a newsletter, a brochure or on our website - are spruced up with the right colours, beautiful images, logos and that kind of stuff. But when we've made such a huge effort - in terms of resources - in wrapping the message in the most beautiful bright colours with pictures and illustrations that would even make Pablo Picasso green with envy, don't we owe it to ourselves just to dot the i's and cross the t's with one final language check? It doesn't take require a major effort and most importantly: It might make the crucial difference to whether your recipient sticks around.
If you still aren't convinced ...
So just try to think about the following: How many times have you heard your friends and colleagues complain or make fun of the quality of the language on various television media? There are actually websites that are based around those so-called "language bloomers". The funniest ones tend to end up on social media, where they are exposed virally to a wide range of potential customers. It damages the company's brand, image - and ultimately the bottom line. Try also to think about the huge volume of newsletters that many of us receive in our inbox on a daily basis. Which newsletters do you choose to read and which do you ignore? What do you think about the sender if the text is splattered with errors? Or even worse, if there are any errors in the title? It is very much about creating a competitive advantage by focusing on the quality of the content you produce. Strive to obtain a linguistic quality that supports your values, brand and objectives for the future. A political manifesto that everyone in the company lives and breathes.
It really is important that "correct language" thing!
Hopefully you are now convinced how important it is to prioritize the quality of your content – i.e. your external language. You know now that it is a competitive advantage that can strengthen the company in the battle to win over customers. The next step is to equip the company's employees with the "linguistic toolbox" that is needed to ensure a "sharp" and "finely-tuned" language is maintained in all written communication. Fortunately, this does not have to be a time consuming process.
Guide to linguistic tools
Below we describe some of the tools that can be placed in the employees' linguistic toolboxes.
The fast: Language tools that can be quickly and easily implemented and which require minimal maintenance
Glossary: A document showing the preferred spelling of the company and industry-specific terms and expressions, product names, etc. in the company's corporate language.

Dictionary: What we call a terminology database, which contains both company and industry- specific words and phrases in multiple languages. In addition to correct spelling and language versions, the database can also contain definitions.
These two simple but important tools ensure consistent use of language in all your written communication. They help to ensure a higher quality experience - both internally and externally - and ultimately a stronger brand.
The relatively fast: Language tools that can be relatively quickly and easily implemented and which only require limited maintenance
Communication Guide: A booklet or suchlike containing advice and guidelines on how employees should communicate with the outside world, as well as general linguistic advice and grammatical rules.

>Quick Guide: A shortened version of the language guide, which should not exceed one page. The Quick Guide contains rules on how to avoid the worst linguistic and grammatical pitfalls. Can also be designed in the format of a "Top 10" or "The 10 Commandments".
The slightly more time consuming: Language tools that require time, management involvement and ongoing maintenance
Language Strategy: Can possibly be included as a pillar of the communication strategy, so the language is put "in a system". A language strategy is a necessity in large companies with a global presence that deals with many different countries, languages, cultures and nationalities on a daily basis. A language strategy is also a useful language tool for all other companies with ambitions of being present in or expanding into new markets.

Language Policy: A document containing the most general language rules and guidelines, e.g. the company's approach to language, corporate language, including the use of local languages, as well as a description of how you can find help for relevant language tasks, find language tools etc.
Of course you can also combine the various language tools in multiple ways. For example, a term list can be incorporated into the extension of a language guide, just as a language guide and language policy can ingeniously represent one language tool.
Remember: You are what you write!