If you find it difficult to localise one piece of content, then you might be wondering if global companies actually bite the bullet and localise 100% of their content. Like most things, it's a question of balance. Even though localised content improves conversions and increases sales, it can be a prohibitively costly affair. This is mainly due to long working hours, high external expenses and increased time-to-publish. Even Rasmus Houlind, an Omnichannel expert, is yet to find a brand that has 100% localised content.
Local content
In September 2015, L2 analysed to what extent global brands localise their content across borders. As you can see in the results below, videos are by far the most localised. Next comes the static content of websites, followed by product reviews, editorial content, user generated images and finally brand books and product guides. The less exposure the content is expected to have, the lower the likelihood that it will be localised.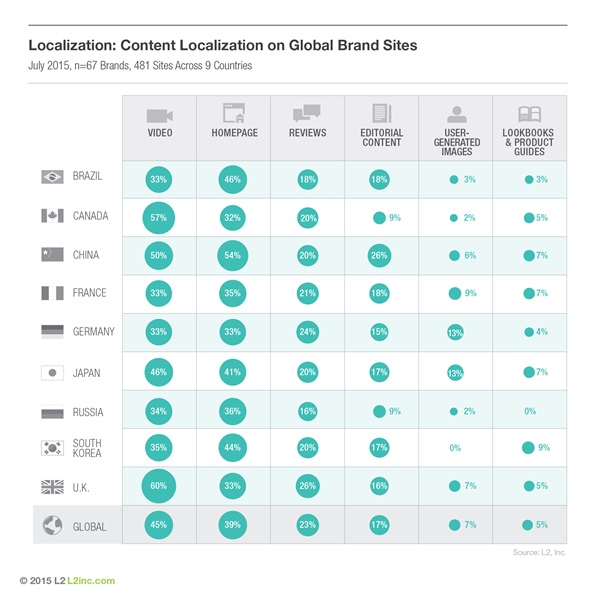 Source: L2 Intelligence Report on Localisation, 2015, www.l2inc.com
Global brands
There's a huge difference between how high-end luxury goods brands act compared to more mainstream consumer brands. The brand may be able to withstand being interpreted in a local context, but it may also run the risk of diluting the brand which will affect its value.
Tiffany & Co., a premiere jeweller, is a good example of such a luxury brand. Their website is translated well, but their brand expression remains exactly the same across all locales and online purchasing isn't available in all of their markets. Tiffany's identity and brand expression are not negotiable, and it's their actual product that takes the centre stage here.
On the other side of the spectrum, the shoe designer and manufacturer ECCO can endure their brand being perceived differently in various markets. In its home market in Denmark, ECCO shoes are seen as being a bit unfashionable. It's a different story in China though, where the brand is considered to be a high-end luxury shoe.
Additionally, you can't be sure that all products will be available on all markets. For example, Pandora, a Danish jewellery manufacturer and retailer, sells certain jewellery items in China that are not available in other countries. Besides the potential disappointment among Pandora fans outside of China, centrally orchestrated marketing campaigns also run the risk of advertising products that aren't available in the recipient's home country. Most European consumers have had such experiences when shopping on a US website and realising during check-out that they don't actually ship to Europe.
Pricing & payment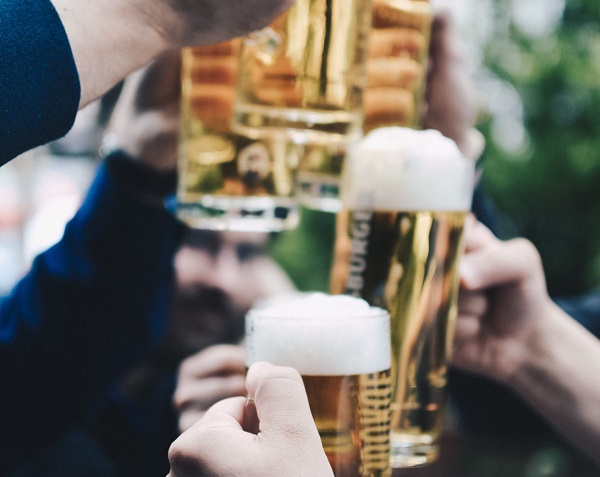 You need to have cash on you in Germany
Pricing is an important aspect to consider for e-commerce shops, and there are several things to deal with. Choices can include displaying the prices in the visitor's home currency or a well-known currency like the Euro or US dollar, or if they should follow current exchange rates or rather be assigned localised pricelists. Each of these options have specific advantages and disadvantages, but generally speaking it is best to display all prices in the consumer's currency.
Once pricing has been settled, it is also important to consider the payment methods. In Germany, many customers prefer bank transfer or invoice payments to credit cards. In Japan, konbini—Japanese for convenience stores—are an important player in online payments. Many online shoppers prefer to visit their local konbini and pay for their purchases cash using a reference number rather than paying with a credit card during the online checkout process. In India on the other hand, the preferred payment method is by bank transfer. You can read more about international payment preferences in Oren Levy's blog post for Entrepreneur. Customers will drop out of the payment process if their preferred payment method isn't available. But setting up these localised payment options is no small task, so it's important to have some broadly accepted payment options available—such as PayPal, Visa and MasterCard—and invest in localising payment options depending on your international business strategy.
The omnichannel challenge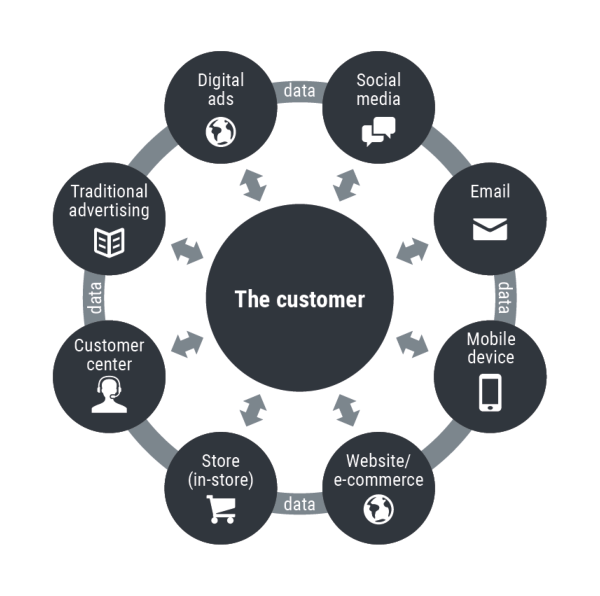 Omnichannel isn't an easy concept to handle, and you can read more about omnichannel marketing in our omnichannel series. Here we'll focus on the following question: "Since personalised customer experiences are so complex and costly, how should they be pursued?"
Centralising the idea development and any preparatory work for campaigns, websites, editorial content and dialogue programs can lead to substantial benefits, such as increased productivity, lower costs and shorter launch times. Ideally, the framework for materials such as films, campaigns and websites should only be developed once, so that specific ideas don't have to be reinvented for several markets. By doing this, it will become much easier to implement a uniform brand experience. However, building effective workflows and systems is a considerably demanding task, requiring a lot of ground work.
It's also important to make sure local markets don't feel "trampled". In other words, it's important to leave enough space for local interpretation and adaption of content to ensure the end result does not feel artificial or miss the mark completely. Large regional marketing teams that have control over their own marketing might simply refuse to participate and opt to run independent campaigns instead.
The ideal solution is a tight and centrally-managed content workflow of localising content, whilst still allowing local markets to leave their own mark. For example, Pandora's approach allows each country's marketing manager to continuously assess the systematic translations of content centrally, which lets them ensure that the content meets their local standards. Another benefit with this process of local validation is that it brings local markets into the content creation process and makes them part owners of it.
System support
Finally, it's important to look at the technology that will support your multilingual content efforts. The centralised management of multilingual content that we mentioned above is naturally made easier if it is supported by the right systems. This also minimises manual work and speeds up execution. Today you can find a wealth of systems to manage web content, e-commerce and dialogue programs—but they aren't all equally successful at managing localisation.
Sitecore and Episerver both offer optimal content localisation solutions for web content (CMS), as do a number of their competitors. In terms of e-commerce, good providers are few and far between, due to even greater complexity.
There are even fewer dialogue programs and marketing automation solutions that offer multiple language versions of central communication flows. One reason for this could be that most systems are created in an American market where localisation isn't always necessary.
How LanguageWire can help you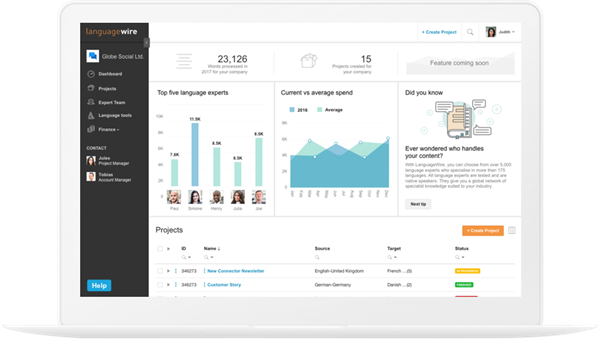 And now our shameless plug. At LanguageWire we offer a range of tools that aid the creation of quality content for a better customer experience. Firstly, we make it easy to access a network of language experts covering over 165 language pairs. Customers with one-off translation needs can simply send in their content and ask for a quote. Customers with continuous multilingual content needs use LanguageWire's collaboration platform. This platform offers a range of features that make working with language experts and handling translation, proofreading, voiceover and other projects easy. Finally, we offer translation integration. This is a connector that integrates your digital platform with LanguageWire, making it possible to order translations directly from your CMS, which speeds up the translation process immensely and reduces errors thanks to automated routines.
Thank you to Rasmus Houlind of the Omnichannel Institute for contributing to this article.