A site that supports multiple languages has numerous benefits. You'll reach more people, get more traffic, provide a better experience and increase conversion. But building a multilingual website is complex. You'll have to carefully consider the technology you use and find the right partners with the know-how you need. Below, you'll find insights from Jesper Lehrmann, Product Director for Connectivity at LanguageWire, which will help your multilingual website project be a resounding success.

1) Choose the right website platform
If you'd like your website to be multilingual, it's important to consider this early on in the process. "Your website should be multilingual from the outset to ensure that no technical issues pop-up in the future," according to the experienced digital strategist. "Ideally you begin with at least two languages. If you don't do this, you might find a need to make drastic changes to your website, which can be as demanding as building a website from scratch.
"You need to choose a CMS that was developed with managing multiple languages in mind," says Jesper. "Look for features like language fallback, approval workflows and customisable layout options to suit specific market demands. Platforms like Sitecore and Episerver excel in this category and are both safe choices for the experienced global marketing organisation. At LanguageWire, we've built integration solutions for a host of market leading web platforms with multilingual capabilities in their DNA."

Achieve unparalleled speed and reliability through translation integration.
Here's a brief overview of the digital platforms LanguageWire offer integration solutions for:
Sitecore — A market leading experience platform (according to Gartner) with excellent multilingual features and personalisation options.
Episerver — A Forrester Wave leader with a unique combination of CMS and commerce capabilities for the global organisation with multilingual requirements.
Adobe AEM — Another Gartner market leader with great multilingual capabilities and strong integrations across the Adobe suite.
TYPO3 — Based on PHP, this is one of the best known open source platforms on the market built with multilingual requirements in mind.
API integration — In case we don't support your selected platform with a dedicated connector, we have developed robust integration extensions for .NET, Java and PHP based platforms.
"Adobe and Sitecore are strong performers with large to enterprise companies," Jesper says, "we see Episerver and TYPO3 more in mid-sized to large organisations. All four platforms offer out-of-the-box language features which make it easy for brands to reach new markets with limited effort. Because of their broad market offering and market leading multilingual features, these platforms were a natural choice for us to develop connectors for."
2) Pick an experienced implementation partner
Selecting an implementation partner who is an expert with language versioning is just as vital as getting the technology right. "In Europe, businesses are lucky to have a long history of working with multiple languages. Our partners are all well-versed on building a multilingual website," says the connectivity expert. "When selecting your implementation partner, an experienced solution architect can make a huge difference. Most of our partners have in-house platform experts, such as a Sitecore MVP or an Episerver EMVP. These architects understand the importance of language in the solution, and have the skills to bridge the technical solutions with your business goals."
3) Involve a multilingual content professional
Finally, it's your translation partner that will help you find the last linguistic gaps in your website project. The smart move is to include your translation partner early in the process. According to Jesper, "The sooner you bring in your multilingual content partner, the better. They'll help you think ahead about potential issues so that you can build a robust multilingual platform."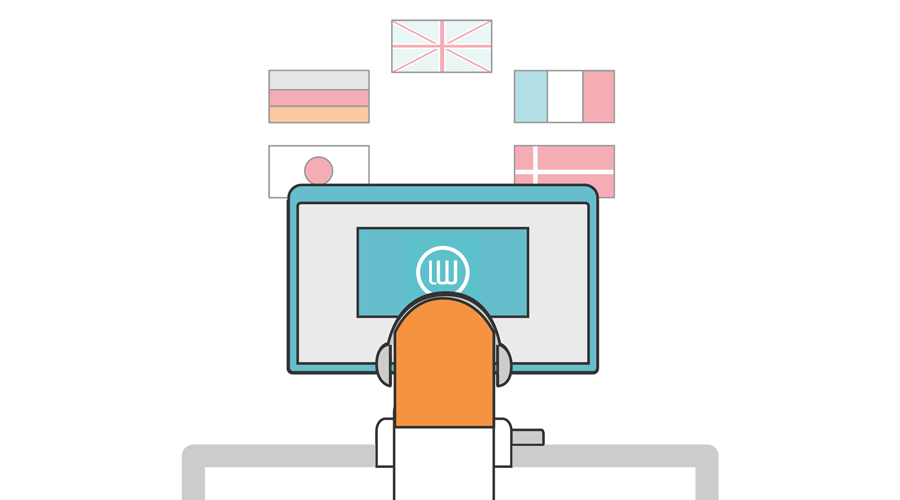 Improve customer experience by speaking the right language.
Here are some examples of the complications an experienced language partner will help your business navigate.
Text expansion — Translated texts expand and contract depending on the source or target language. For example, a text in German will end up longer than the same text in English, and it's difficult to split up words in Finnish because of a large number of consonants.
Text direction — Some languages are written from right to left. These are known as 'RTL' languages and include Hebrew and Arabic.
Font support — This isn't complicated when you offer standard Western European languages such as English, Spanish, French, German and Italian. But, if you'd like to support Eastern European or Asian languages, then you will need to make sure your CMS supports fonts from these regions.
Get in touch
Whether you are a CMO, content manager, developer or IT specialist, we are here to help you reach your global audience. Our team of experts is eager to answer all your questions.
Please fill out the form below with your questions or comments, and we'll get back to.